TEN MORE DOORS: POLITICS AND THE PATH TO CHANGE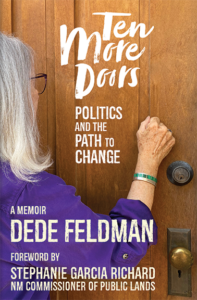 By Dede Feldman
$14.99 Paperback • 978-0999586426
$7.99 E-Book • 987-0999586433
FREE SHIPPING for a limited time!
Order your signed copy now before the official Sept 28th publication date. 

For anyone who wants to make political change, start a campaign, advance a cause or just stay in the fight, former Senator Dede Feldman's memoir, Ten More Doors, charts an inspirational path. Arriving in New Mexico a stranger in 1975, Dede's path to change takes her through alternative newspapers, adobe construction, women's campaigns and heated grassroots politics. Door-to-door, she learns the wisdom of the street in Albuquerque's North Valley, where matanzas and sweathouses reveal an eclectic mix of old and new, Hispanic and Anglo.
Once inside the legislature, she takes on the big issues amid conflict and corruption, developing the grit to persist in a long game that lasts beyond the Santa Fe Roundhouse. Dede's honest—and sometimes hilarious—account of neighborhood encounters, wins and losses holds lessons for activists, journalists, aspiring candidates and ordinary citizens on the path to political change.
Her memoir—and her life—shows us how the path is never straight, and it calls on all of us to make a difference, starting at ground level, door by door.
BOOKS ALSO AVAILABLE AT:
Amazon
Barnes & Noble
IndieBound
Bookworks
Here's What People Are Saying
"Ten More Doors shows how grassroots citizens who show up, volunteer for a candidate, write articles, and make their views known—just like she did—can make a difference by following her on the path she's outlined."
—Former US Senator Tom Udall
"High-level politics is like championship sports: defeats are as crushing; victories as joyous. You make a game plan, you learn to know your teammates, how they play and where they are positioned on the field. It's the same for your opponents. Ten More Doors will lift your appreciation, not just of the game, but of top players like Dede Feldman."
— Bill DeBuys, author and conservationist
"For me, Dede is that woman who came before; the trailblazer, the way finder; one of the few that made it possible and probable for candidates like me and countless others to succeed."
— from the Foreword by Stephanie Garcia Richard, New Mexico Commissioner of Public Lands
"I really enjoyed these stories. They're honest and told with humor and humility. These are classic stories of the outsider moving into a community of people with tight-knit connections—and the funny, quirky interactions that ensue."
— Debbie O'Malley, Bernalillo County Commissioner and longtime North Valley resident