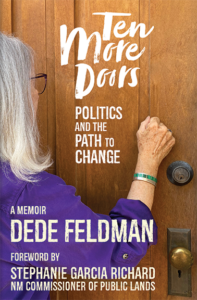 IT'S HERE: DEDE'S NEW BOOK ABOUT POLITICS AND THE PATH TO CHANGE

Ten More Doors is the latest book from award-winning author and former Senator Dede Feldman. Unlike her other books, which are journalistic accounts of how the New Mexico legislature works or how small grassroots organizations provide an alternate path for New Mexico, this is a personal account of Dede's path to the New Mexico Senate. She travels a zigzag path, door-to-door in one of New Mexico's most diverse neighborhoods meeting politicos and ordinary citizens, learning lessons she uses to become a crusading reformer, both inside and outside the Senate.
CONSULTING SERVICES FOR CHANGE
Being a legislator sharpens your skills as an advocate, speaker, campaigner, political strategy analyst and communicator. Now on the outside, let me transfer some of those skills to you—or your organization.
Check out some of the services I offer on these pages. My dream is to mentor a new group of values-based leaders in a variety of fields to make a difference in decades to come. Contact me at dedefeld@comcast.net for more information or to help with training, research or publicity for your project on the path to change.
"Dede is that woman who came before; the trailblazer, the way finder; one of the few that made it possible and probable for candidates like me and countless others to succeed…this memoir will seal Dede's legacy on the list of New Mexico progressive reformers and spur a younger generation of activists…"

  —Foreword from Ten More Doors by New Mexico Commissioner of Public Lands, Stephanie Garcia Richard