ANOTHER WAY FORWARD: GRASSROOTS SOLUTIONS FROM NEW MEXICO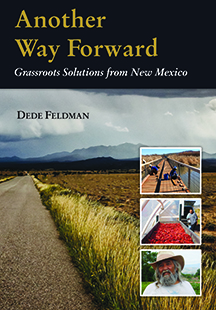 By Dede Feldman
$26.50 Paperback • 978-0-9995864-0-2

For citizen advocates who have lost faith that real change is possible, this book is a ray of hope that there is another path to community development with good jobs, accessible healthcare and education that opens doors for everyone, not just a few.
Another Way Forward: Grassroots Solutions from New Mexico offers hope to anyone discouraged by the nation's inability to tackle problems like poverty and health care. Award winning author and former Senator, Dede Feldman profiles innovative organizations and inspiring local leaders who are changing the world in New Mexico, one neighborhood, one clinic, and one classroom at a time.
Developing community partnerships with local government, non-profit organizations and social entrepreneurs reveal an alternative path to community and economic development through foodhubs, land trusts, fire departments, outdoor classrooms, and immersive art experiences. Along the way the readers will learn how they can join in to make a difference at the local level.
BOOKS ALSO AVAILABLE AT:
Amazon
Barnes & Noble
IndieBound
BookWorks
Here's What People Are Saying
" …the success stories are inspirational blueprints for others… a book about a new world in which fearless New Mexicans — ordinary people — are making extraordinary things happen."
—David Steinberg, Albuquerque Journal, Jan. 29, 2018
"Senator Dede Feldman recognizes that many of the best ideas to move our state forward are homegrown. This uplifting book offers not only well-deserved appreciation to many community champions and change agents, it also serves as a call to action to each of us to engage in making New Mexico a better place to call home."
—Senator Martin Heinrich, United States Senator from New Mexico
"Another Way Forward illustrates the capacity of social entrepreneurs to tackle tough problems — with modest resources but ample creativity and determination. For anyone who seeks to build a better world starting from where they live, this book provides excellent guidance and inspiration."
— David Bornstein, author, How to Change the World
"Dede Feldman is at it again, with a new book reminding us that real change comes from the bottom up. She shares the secrets of grassroots change makers in New Mexico, showing how ordinary people everywhere can create extraordinary solutions."
— Jim Hightower, populist author, public speaker, radio commentator, and editor of The Hightower Lowdown
"If you want to change New Mexico from the bottom up buy this book and read it — cover to cover! Dede Feldman chronicles local heroes, innovative startups and social entrepreneurs. It's a source of inspiration and a practical guide to action."
— Alan Webber, Co-founder Fast Company magazine
"Dede Feldman continues to shape our political future by showing how people all across New Mexico are creating solutions. Her path leads through grassroots efforts like food collaboratives and health care projects, that have the power to create permanent jobs and healthy communities. Anyone who is losing hope for New Mexico – and the nation – should read this reminder that together, we can make a difference.
— Tim Keller, Mayor of Albuquerque