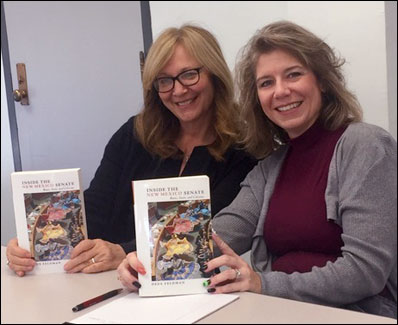 INSIDE THE NEW MEXICO SENATE: BOOTS, SUITS AND CITIZENS
By Dede Feldman
University of New Mexico Press 2014
$24.95 Paperback • 978-0-8263-5438-9

Whether you're a teacher looking for a political science book for your civics course, or a citizen with an abiding interest in books on politics or New Mexico history, this vividly written book by a New Mexico State Senator casts long-needed light on the inner workings of New Mexico government – and by extension on state governments throughout the United States.
This is a "how to" book for reformers everywhere who need to know how to take their cause to the "powers that be" in the legislature. Here are case studies in how to – and how not to—pass legislation to provide affordable health care, ethical government, lower prescription drug prices, a sane drug policy and an end to the death penalty. Here's how advocates in one state have done it by building unlikely coalitions, telling compelling stories and understanding how the system works. Advocates in other states facing the same issues, will benefit from this lively account from this very successful and productive legislator.
BOOKS ALSO AVAILABLE AT:
UNM Press
Amazon
Barnes and Noble
Here's What People Are Saying
"Completely honest and highly informative. To look at a legislative body is to observe democracy in the raw—with all its diverse characters and influences and its many conflicts, compromises, and achievements. Dede Feldman, a first-rate observer and chronicler, shows us the insides of the New Mexico State Senate."—Fred Harris, former U.S. Senator and professor emeritus of political science, University of New Mexico
"It can be stomach churning to watch a state legislature in action, but it can also be a strong motivation to push for improvements. Dede Feldman has pushed hard and effectively as a fighting reformer and former state senator in New Mexico — and now, with this insightful peek into the inner workings of that legislative chamber, she's encouraging all of us to join the fight." Jim Hightower, populist speaker, writer and editor of the Hightower Lowdown
"An insightful and compelling history of New Mexico's legislative battles. Feldman's observations are astute and her story well told." US Senator Tom Udall

Excerpt
Chapter 8 Taking a Bullet for the NRA
They were mothers of teenagers who had been shot or committed suicide. Mary Hunt lost her son Matthew in a triple homicide in the East Mountains near Albuquerque. He, along with Viola Garcia's son Luis and Joan Shirley's son Kevin, were on their way home from a party on a May night in 1999 when their car was riddled with bullets at a quiet intersection in Sandia Park. A few years before the shooting that took the three teens, Gina Lujan's daughter, 19-year-old Emilia, depressed about her boyfriend and the suicide of a friend, used the loaded revolver her mother kept under the mattress to take her own life.
Now, in the winter of 2001, these moms were on a mission. They were standing together, telling their painful stories at a news conference in the Rotunda, at an event organized by the NM Coalition against Gun Violence, a group of survivors, police officers, sheriffs, emergency room doctors, health advocates and religious leaders. The news conference was to drum up support for the bills that three other women, Rep. Patsy Trujillo-Knauer, from Santa Fe, Rep. Gail Chasey, from Albuquerque, 1 and I were sponsoring in the 2001 session to reduce youth gun violence. My bill, the Children and Firearms Safety Bill (SB 131), required safety locks for every gun sold in New Mexico. Rep. Knauer's (HB 250) the Child Access Prevention Act, established penalties for parents who did not safeguard handguns from possession by children. Rep. Chasey's Handgun Safety Standard Act (HB 310) was aimed at getting a commission to look at new gun technologies, which would allow only their owners to fire them.
With memories of the Columbine High School shootings fresh in our minds, and a growing awareness that New Mexico had a dismal record of gun violence, we believed that we could save young lives. Why should the US lead the rest of the world year after year in the number and rate of children dying from firearms?   And why should we sit still while firearms became the second leading cause of teen deaths after auto accidents? We were careful to explain that we were not challenging rights to gun ownership but were just asking for a little commonsense regulation in an area that seemed to get an exemption from health and safety standards. Sixteen other states (and several major cities) already had laws requiring safe storage of loaded firearms, mostly through trigger locks. The National Rifle Association (NRA) had publicly supported these laws in California, Florida, Iowa, Maryland and Wisconsin.   Public polling showed widespread support, and we were optimistic.