ABOUT DEDE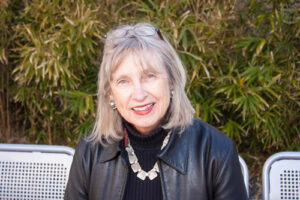 The first woman elected as a New Mexico senator from Albuquerque's near North Valley, and the author of three books about politics and change in New Mexico, Dede Feldman has been a pioneer for women in government. She has a long history of promoting campaign finance reform, improved health insurance in New Mexico, and election reform.
Feldman built her foundation for change with a varied career as a journalist, high school and university teacher, and the owner of a small public relations business. As the state senator for District 13 from 1997-2012, Feldman had a big impact on the lives of women, children, and people struggling to make ends meet. She sponsored scores of successful initiatives including many related to healthcare reform:
the "Graduated Drivers' License" system for teens
the Nurse Advice Hotline
a mastectomy bill that mandates insurance companies cover a minimum 48-hour hospital stay
the creation of a Brain Injury Services Fund for people with head injuries
a "Do Not Call" bill in 2003 prohibiting unwanted telephone solicitations
an ATV safety bill in 2005 and
the state's Senior Prescription Drug Discount program (2002).
The long-time Chairman of the Health and Human Services Committee, she was a champion of health care reform, long before the Affordable Care Act, laying the groundwork in New Mexico with insurance parity for women and people with disabilities. She passed laws toughening insurance rate reviews, and made it harder for insurance companies to discriminate against people with pre-existing conditions. She also played a key role in ethics and campaign finance reform, passing limits on campaign contributions, public financing for the state's higher courts and its Pubic Regulation Commission, a requirement for the disclosure of contributions on the web, and open legislative conference committees.
She passed the state's only "pay- to play" bill in recent memory. She currently serves on the boards of the New Mexico Foundation for Open Government, Health Insight New Mexico, and the Robert Wood Johnson's Aligning Forces for Quality.
Education and Personal
Feldman holds both a BA and an MA in Political Science from the University of Pennsylvania. She also attended Gettysburg College (1964-1965) and Westtown School (graduated 1964). In one of her first efforts at grassroots community development, when Dede was a teacher, she and her husband led a group of students on a trip to Uganda in East Africa where they worked with Africans to repair and build additions to local schools. Dede has lived in the North Valley of Albuquerque since 1976 in a solar adobe home she and her husband built as an experiment in passive solar design.
Awards
In 2000 Feldman, the owner of a public relations company as well as a citizen legislator, won a Silver Anvil Award of Excellence from the Public Relations Society of America for her work on the Graduated Drivers License campaign. This is the highest international award in the field of Public Relations.
In 1999 Feldman was selected by the DC-based Center for Policy Alternatives as a Flemming Fellow, one of 38 progressive state legislators chosen nationwide for their ability to build bridges across party lines and advance a values-based agenda.
In 2012 Feldman was named a New Mexico Hero of Health by the Con Alma Health Foundation, and received the 2012 Jack Taylor Best in Government Award from Common Cause.
The New Mexico Democratic Party presented her with the 2011 Governor Bruce King Award "in honor of her commitment to New Mexico's Citizens and her efforts to advance Democratic Ideals, Beliefs and Values"
Emerge New Mexico named her Democratic Woman Leader of the year in 2011.
She got the 2009 Leadership Award from the Mid-Region Council of Governments
Named a Hero by the NM Cancer Care Alliance in 2009
Named an Early Childhood Champion in 2008 by the Early Childhood Action Network
Fellow Senators honored her with the Milagro Award for outstanding leadership in 2007.
The Foundation for Open Government recognized her with the Bill Dixon Award in 2006.
From 2003-2011 Feldman was awarded the Albuquerque Chamber of Commerce's Leader Award for health care, water and solar legislation.
In 2004 she received the Carl Souder Water Protection Award from the NM Environmental Law Center for her defense of water resources.
In 2004 she received the Pillar Award from First Choice Community Health Clinics for her work to expand access to health care and reduce the cost of prescription drugs.
In 2004 the NM Section of the American Planning Association named her Citizen Planner of the Year.
Feldman was the New Mexico Pediatric Society's Child Advocate of the Year in 2000 and the Lutheran Office of Governmental Ministries Legislator of the Year in 1998.
Feldman was presented with the New Mexico Psychological Association's Public Service Award in the spring of 2001 and the New Mexico Primary Care Association's Appreciation Award in 1998.
As a journalist Feldman has won over 80 state and national awards from the Press Women's Association, the Fund for Investigative Journalism and the NM Press Association.