Training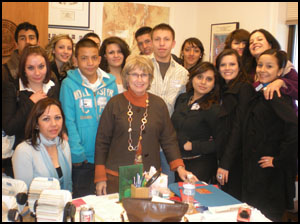 Dede Feldman offers leadership training to advocacy groups to enhance citizen engagement. As a legislative consultant, she also provides training to candidates and newly-elected officials who seek assistance with a legislative initiative, a media campaign or a public education effort.  As a public official, she has mentored scores of interns, students, staffers, and advocates with a special emphasis on women in politics. Now her skills can be yours.
…For Advocates and Reformers: strategic planning, message development, networking and coalition building, background and issue reports, fact sheets and committee testimony, task force formation and team building. Guerrilla marketing and door-to-door campaigns are also part of the skill set.
…For Newly Electeds: I can help you become an effective legislator, councilor or board member with an orientation to the legislative process, a map of the legislative and political landscape, and effective communications to constituents, supporters and even opponents through news releases, town halls, surveys and newsletters.
…For Candidates: Help with background research, strategic planning and targeting, messaging through direct mail, speeches and media appearances. I provide personal coaching on door-to-door campaigning, media relations, convening effective meetings, and debate preparation. My specialty is helping you to use your the campaign to build community.
From A Speech to Emerge New Mexico, Aug. 8, 2011
Thank you so much Randi McGinn. It's a very special honor tonight to be sharing the time with one of my role models, Celinda Lake.
Emergistas, I am really touched by this award, coming as it is, from an organization designed to put more Democratic pro-choice women in office at every level. Campaigning for women is how I started It's how I started back in the 1980s, working with the Women's Political Caucus for the Equal Rights Amendment… campaigning first for Dr. Suzanne Brown, a pediatrician who literally recruited me to be her campaign manager for the Albuquerque School Board just minutes after I gave birth. I campaigned for Judy Pratt, the first woman to run for the US Senate in NM and was there when Geradine Ferraro, broke the glass ceiling for women when she was nominated for VP in 1984.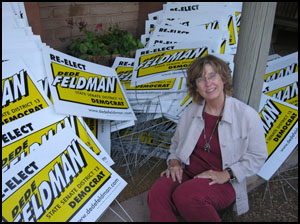 I look around this room and realize how far we have come. So many women in office, so many policy advances for women and children. But we could not have gotten here without campaigns. And Emerge recognizes this. Campaigns are the foundation of our work, in one way or another. As I hope you know, campaigns are more than an exercise in list building and phone calling. They are not just something you have to get through. Campaigns give us the opportunity to create and celebrate community, to connect and reconnect.
Campaigns take on a life of their own. The personalities become larger than life; the decisions are agonizing, conflicts are magnified, the pace is grueling and your heart is beating. There are real things at stake. Beyond the issues and beyond the results.
I don't know about you, but I can date the period of my life by the political campaign I was working on and the people I encountered. Campaigns are where we met our husbands, our best friends, where we decided what to do with our lives, whether to go to school or move to another town. They're where we formed a support system– a network– long before the word became trendy… Read More