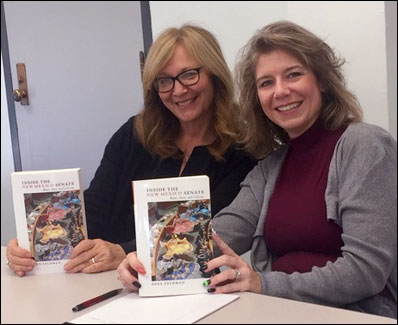 Inside the New Mexico Senate: Boots, Suits and Citizens
By Dede Feldman
University of New Mexico Press 2014
$24.95 Paperback • 978-0-8263-5438-9
Whether you're a teacher looking for a political science book for your civics course, or a citizen with an abiding interest in books on politics or New Mexico history, this vividly written book by a New Mexico State Senator casts long-needed light on the inner workings of New Mexico government – and by extension on state governments throughout the United States.
This is a "how to" book for reformers everywhere who need to know how to take their cause to the "powers that be" in the legislature. Here are case studies in how to – and how not to—pass legislation to provide affordable health care, ethical government, lower prescription drug prices, a sane drug policy and an end to the death penalty. Here's how advocates in one state have done it by building unlikely coalitions, telling compelling stories and understanding how the system works. Advocates in other states facing the same issues, will benefit from this lively account from this very successful and productive legislator.
Here's What People Are Saying
"Completely honest and highly informative. To look at a legislative body is to observe democracy in the raw—with all its diverse characters and influences and its many conflicts, compromises, and achievements. Dede Feldman, a first-rate observer and chronicler, shows us the insides of the New Mexico State Senate."—Fred Harris, former U.S. Senator and professor emeritus of political science, University of New Mexico
"It can be stomach churning to watch a state legislature in action, but it can also be a strong motivation to push for improvements. Dede Feldman has pushed hard and effectively as a fighting reformer and former state senator in New Mexico — and now, with this insightful peek into the inner workings of that legislative chamber, she's encouraging all of us to join the fight." Jim Hightower, populist speaker, writer and editor of the Hightower Lowdown
"An insightful and compelling history of New Mexico's legislative battles. Feldman's observations are astute and her story well told." US Senator Tom Udall

Excerpt
Chapter 16: Conclusion | Tackling the Unfinished Agenda: A Handbook
Unfolding the roadmap of the New Mexico Senate, tracing the twisted paths that advocates for change must follow—from committees to floor sessions, through the offices of cowboys and lawyers alike—has been tricky. Actually using the map to reach a grand destination, like health care or campaign finance reform, has been even harder. As you may have noticed, armed guards are stationed at every pass to bar the way.
It took me years to understand a system fueled by special interests, personal loyalties and maverick leaders. It took citizen activists taking on Big Tobacco, the NRA, Big PhRMA and, yes, "the powers that be" in the Senate even longer. This has been their story, as well as mine. It is a New Mexico story but it shares its themes with many other states.
I've devoted the last section of this book to ethics and campaign finance reform because I believe they are the keys to curbing special interests and restoring the public's trust in the New Mexico Senate. Progress in this area has been painfully slow in the past sixteen years. With so much at stake, it's easy to see why. But that doesn't change the results.